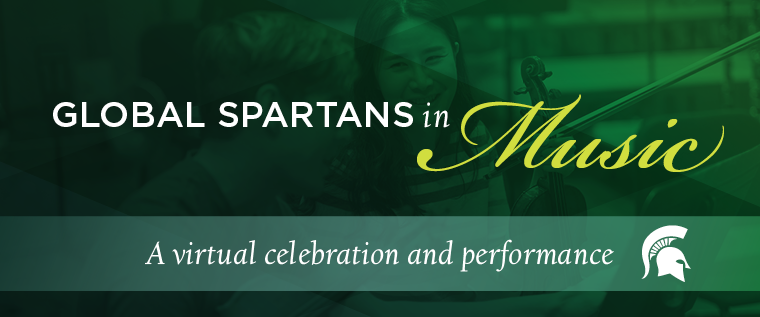 The College of Music and International Studies and Programs at Michigan State University hosted Global Spartans in Music
—

a special virtual celebration and performance in support of MSU's international students in music on Thursday, December 10. The program showcased exclusive performances by Global Spartan musicians, and featured a welcome from MSU leadership and alumni.
---
Global Spartans in Music
A virtual celebration and performance
Thursday, December 10, 2020


Arirang Rhapsody
Composed by Ji Soo Lee
Performed by MiRyoung Kim, violin; Jong Goo Kim, viola; Eunkyung Noh, cello; Lin Chang, double bass; and Minjung Kim, piano
Seoul
Clair de Lune
Composed by Claude Debussy
Performed by Suren Bagratuni, cello, and Deborah Moriarty, piano
College of Music, Michigan State University
Mariettas Lied
Composed by Erich Wolfgang Korngold
Performed by Elizabeth Toy Botero, soprano; Ji Hyun Kim, violin; Sarah Patterson, violin; Christine Beamer, viola; Jinhyun Kim, cello; and A Ram Lee, piano
ConTempus Quartet
Sonata for Violin and Piano in G minor, Op. 1b, No. 3 (Allegro)
Composed by Joseph Boulogne
Performed by Yvonne Lam, violin; and Deborah Moriarty, piano
College of Music, Michigan State University
Bang Tshun Hong (Longing for the Spring Breeze) for Violin and Piano
Composed by Tyzen Hsiao
Performed by I-Hsuan Tsai, violin; and Wei-Liang Kung, piano
Taoyuan, Taipei
Album Espagnol, Op. 21, No. 2 (Vivace assai)
Composed by Moritz Moszkowski
Performed by Jen-Ru Sun and Chia-Ying Huang, piano
Taoyuan, Taipei
Chasing the Moon
Originally composed by Jianzhong Wang
Performed by Haobing Zhu and Lu Wang, piano
Shanghai
Victory for MSU!
Composed by Francis Irvine Lankey
Performed by Dmitri Berlinsky, violin, and the International Chamber Soloists
College of Music, Michigan State University
---
Support the College of Music International Student Fund
International students in the MSU College of Music are adapting to new safety protocols for performances, rehearsals, and gigs while also navigating the challenges of living and learning remotely. Due to the lack of music performances as a result of the COVID-19 pandemic, student musicians have limited access to internship experiences and performing opportunities which typically help to cover their living expenses and further their musical entrepreneurial studies. These experiences are critical for students' development and success as performers, and enrichment as they begin their careers in a competitive teaching and music industry.

The College of Music International Student Fund ensures international music students have access to innovative, exploratory learning experiences, while conducting meaningful work with partner organizations they are passionate about. Through our collective effort, you can help create engaging opportunities for international students to share their love for music with the world and ensure their livelihoods during this challenging time.

---
Arts Administration Internship
This award provides a $1,200 stipend for an 8-12 week remote internship experience, working approximately 10 hours per week for an arts organization of the student's choice. This opportunity provides students with an understanding of how arts organizations work, access to employment opportunities beyond performing and teaching, and important networking in their field.


Entrepreneurial Project
This award provides a $600 stipend for students working on an entrepreneurial project—building their brand, business, or future career through project-based work. Projects build student capacity and may fund course or event fees, materials, technology, commissioning costs, or other barriers to creative and innovative work.