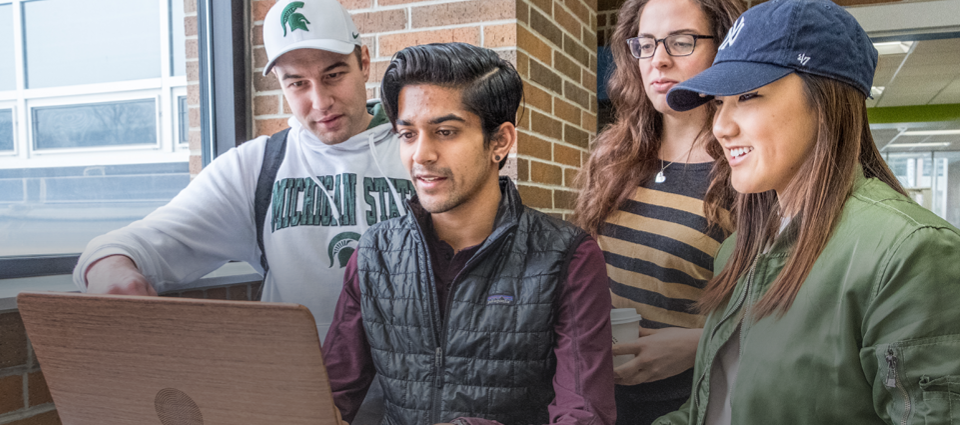 This is a list of internationally focused funding opportunities for students. For complete scholarship information, contact the Office of Financial Aid.
---
---
Graduate Funding 
African Studies Center
The African Studies Center provides support for African research, forging international partnerships, conference attendance, and more.
Asian Studies Center
The Asian Studies Center can help connect students to scholarships and awards that support their studies, research, and work in Asian language and culture.
Center for European, Russian and Eurasian Studies McCagg Memorial Student Paper Contest
This essay contest for undergraduate and graduate students focuses on papers which contain a significant European, Russian or Eurasian component.
Center for Gender in Global Context (GenCen)
GenCen offers a variety of funding opportunities for graduate students including GJEC and WGS dissertation fellowships, student travel funding for conferences and research, PhD instructors for summer WS courses, and student paper and activism competitions.
Center for Latin American and Caribbean Studies Graduate Student Research Grants
CLACS Graduate Student Research Grants are available to support work in other countries in Latin America and the Caribbean funded by the CLACS endowment.
Claffey Meyer International Travel Grant
This award provides financial assistance to domestic students who intend to travel to developing countries for the purpose of providing technical assistance, participate in research, or engage in service. The intent is for students to work towards discovering and implementing solutions in response to urgent human needs (for example: food security, environmental quality, health and nutrition, education, and other areas) and, thereby, to encourage careers in international development teaching, research and practice. Grants are intended to support travel, related living expenses, and projects costs, not to be used as a tuition scholarship.
ECLAT Foundation Graduate Scholarship
The ECLAT Foundation Graduate Scholarship is intended to encourage MSU graduate students who have demonstrated the capacity and the motivation to achieve their educational and professional goals. This scholarship is for students who are citizens or permanent residents of China or Taiwan, and preference will be given to students in the Broad College MBA and College of Engineering graduate programs.
Fulbright Grants
Graduate grants for international study and research.
Dr. Charles and Marjorie Gliozzo Dissertation Research Scholarship
This scholarship is available to MSU doctoral students with dissertation research objectives who have defended, or are in the process of defending, a dissertation proposal. The scholarship supports field research abroad in support of the student's dissertation.
Office of Education Abroad Scholarships and Fundraising
The Office of Education Abroad offers multiple funding opportunities to help undergraduate students study abroad.
Foreign Language and Area Studies (FLAS)
Fellowships for graduate and undergraduate studies in African languages and area studies are available through the African Studies Center, provided by a grant from the U.S. Department of Education.
Graduate Student International Travel Grant (GSITG)
ISP offers small travel grants to graduate students at MSU who are engaged in research that deals with international issues. The Graduate Student International Travel Grant (formerly the Global Young Scholars Grant) provides funding for graduate students to present papers with an international focus at international professional conferences at international locations. For more information, see the Graduate School Funding Guide.
Graduate Travel Funding
Funds from the Graduate School are available for graduate and graduate professional students to travel to present their research at professional conferences. These funds are not available to support thesis/dissertation research projects or course work. This funding is only for graduate students pursuing a degree program.
Lillian Kumata Scholarship Program
The Lillian Kumata Scholarship Program offers a limited number of need-based, partial tuition scholarships to the MSU international students and scholars and their spouses for the fall and spring semesters, up to $2,500.
Muslim Studies Center Graduate Student Essay Award
This award recognizes an outstanding research paper by a current MSU graduate student whose studies focus on Muslims in any contexts and/or Muslim-majority communities/societies.
Office of International Students and Scholars Grants and Scholarships
MSU offers a limited number of grants, scholarships and loans for international students. Loan and grant programs are either short term or to be used as degree completion loans.
Miriam J. Kelley African Scholarship Grant Program (doc)
Two annual awards to encourage MSU African students to enhance their studies and make a contribution to the development of their country. Women are strongly urged to apply. For more information contact the Office for International Students and Scholars, 103 International Center.
MSU Library's Scholarships for Graduate Students
This is a very comprehensive list of scholarship opportunities for graduate students.
S.C. Lee Best Paper Award
Award for the best graduate paper on an Asian topic. For more information contact the Asian Studies Center, 108 International Center.
IIE Syria Consortium
Michigan State University has joined the Institute for International Education Syria Consortium for Higher Education in Crisis, which provides Syrian students the opportunity to continue or begin their academic studies.
Traveling Scholar Program (for Ph.D. candidates only)
The Traveling Scholar Program enables doctoral-level students at any CIC university to take advantage of educational opportunities--specialized courses, unique library collections, unusual laboratories--at any other CIC university without change in registration or increase in tuition.
Walker Hill Scholarship
An award for an MSU doctoral student at pre-dissertation stage who has completed adequate credits to have pre-dissertation research objectives. Description, appropriateness and feasibility of pre-dissertation research objectives to be accomplished during the period spent abroad. Financial need may be considered, previous recipients of a Walker Hill award or an ISP Predissertation Travel Award are not eligible. To be used for pre-dissertation visits to the site of the doctoral research in a country outside the United States (for international students, research in one's own country does not qualify).
Whittier Endowed International Health Scholarship Fund
This scholarship is available to MSU graduate students (Master's or Ph.D. level) or MSU professional students who are in the either the College of Human Medicine or the College of Osteopathic Medicine. It is meant to fund international health research (graduate level) or approved international health clerkships (4-6 week duration) for third or fourth year medical students.