Global Spartans Virtual Reunion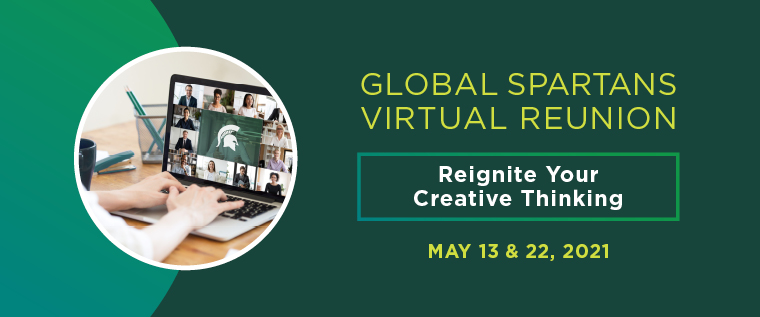 Reignite Your Creative Thinking
May 13 and 22, 2021
7:30-9:30 AM ET (GMT-04:00)



The ability to think creatively and connect authentically are critical to meet the demands of today's rapidly changing world, regardless of profession or industry. Get an inside look from MSU faculty, students, and alumni about their creative process and Spartans' shared commitment to lead and connect the world through authentic leadership, creative thinking, and a global mindset at the Global Spartans Virtual Reunion.

A collaboration between International Studies and Programs and College of Communication Arts and Sciences at Michigan State University, this is a unique two-day experience to reignite your own creativity by connecting with innovative Spartans who are leveraging creative thinking to solve some of the world's biggest challenges.

If you have any questions, please contact Skyin (Xiaoyu) Yin, associate director of International Advancement.


---
Featured Guests
Samuel L. Stanley Jr., M.D.
President
Michigan State University
Steven D. Hanson
Associate Provost and Dean
International Studies and Programs
Prabu David
Dean
College of Communication Arts and Sciences
Ross Chowles
Professor of Practice
Department of Advertising + Public Relations
College of Communication Arts and Sciences
Amol Pavangadkar
Professor of Practice
School of Journalism
College of Communication Arts and Sciences
Xinyu Wu, Ph.D.
Director, Visiting International Professional Program
Co-Director, Office of China Programs
International Studies and Programs
---

DAY 1 | Thursday, May 13, 2021
OPENING | Dean Prabu David
Authentic Leadership in a Global Crisis
FACULTY TALK | Ross Chowles
How to Unlock your Creative Energy and Feel Alive Again
As a creative educator, Ross Chowles has a rich experience from being the co-founder of Cape Town, South Africa's most awarded independent advertising agency; a judge, mentor and international board member of One Club Creativity; and now as a professor of practice at MSU. For 30 years, Ross helped marketing people find their creative/innovative spark―the difference between excellence and average. For the last 5 years, he's been helping MSU students find their spark to unlock their creative energy and thinking. Learn more about Ross and his professional work.

Creative thinking (innovation) is the lifeblood of our personal and professional lives. We find it so hard to break out of the comfort of conformity and routine. Hear some easy-to-follow habits from Ross that will release the creative part of you, and how to defeat those habits that hold us back from moving to the next level of innovation, whether you think you are creative or not. This talk will change your personal and professional life for the better.

FACULTY TALK | Amol Pavangadkar
Expanding Global Horizons through a Film Production Education Abroad Program
Amol Pavangadkar is a professor of practice in the School of Journalism. As a filmmaker and content producer, he has produced and directed dozens of media projects, with international collaborators and federal agencies on a variety of topics through a broad range of platforms in the U.S., India and Africa. Learn more about Amol and his professional work.

Hear from Amol about his journey to bridge culture through media and filmmaking, helping expand the global horizon of MSU students through the production-based education abroad program in India. Learn how the students used lessons in humility, improvisations, cultural and social awareness—and most importantly, street smarts—to inspire them to produce a Bollywood-style film on location!

Breakout Room Discussions with Global Spartans





DAY 2 | Saturday, May 22, 2021
OPENING | Associate Provost and Dean Steve Hanson
Welcome and Introduction of MSU President Samuel L. Stanley Jr., M.D.
KEYNOTE | MSU President Samuel L. Stanley Jr., M.D.
Creatively Adapting and Advancing Common Good with Uncommon Will
Moderated Q&A with President Stanley | Xinyu Wu, Ph.D., Moderator


Global Spartan Alumni Virtual Networking


---

Support education abroad at ComArtSci
The College of Communication Arts and Sciences is committed to global learning through education abroad where students can travel the world, gain new experiences, and learn more about their chosen field. Please consider supporting the ComArtSci Education Abroad Scholarship for students participating in a ComArtSci-sponsored program.